So this is the card . Why does it make me sick everytime I see it.
Well first is the figure , its a camera just a camera. Not evil not threatening just a camera . At least they could have made it similar to a morphotronic but no.
A camera with 2800 Atk .  
The effect is meh , would have been cool if was for every monster not just lv 5 but whatever.
But why it makes me sick is that its a number card .... and a good number .....25
Like it enters the good cathegory of numbers 10 , 12 , 13 , 22 , 25 ,69 ,50 ...
And that is why I dont like it.
ps : post was made to see how it looks , and to get oppinions on the spaces when I write and stuff .  k.

Order of Chaos

Administrator




Posts

: 184



It's effect isn't that bad e_e.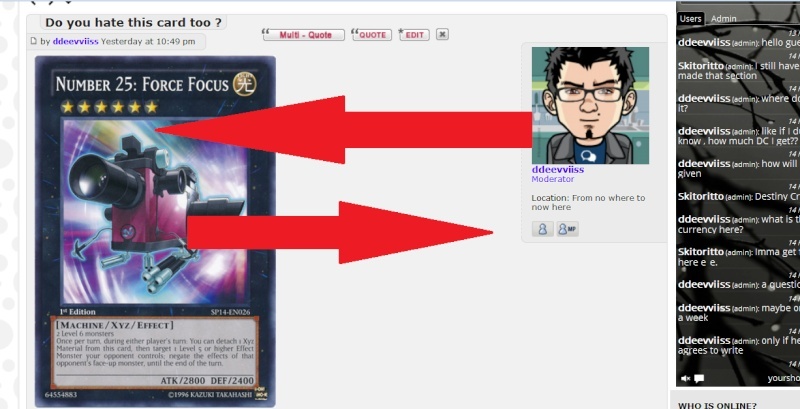 this should be done .  Things posted should be on the middle , not so far in the left. 
Continued at the right section

Order of Chaos

Administrator




Posts

: 184



It only does that on Chrome o.o (I am using chrome now).Guess we have to use opera.
I hate how some cards with useless artworks are op & this one's one of them.And imagine all gustos with low attacks
 .

Ruki

Moderator




Posts

: 73



That's KONAMI :s.
They use cool artwork for lame cards and lame artwork for cool cards
.
---
Permissions in this forum:
You
cannot
reply to topics in this forum